Planning a funeral can be daunting
To simplify things at what is often a difficult time, here is a basic guide that we hope will help you get the process started.
Each Order or Service is as individual as the person it is celebrating, so there is really no right or wrong approach on what to include. Usually, the person conducting the service will assist you with deciding the running order and what can and should be included to ensure it is meaningful as well as personal.
Once you have spoken with the celebrant and decided on the content for your Order of Service, that is where we come in.
The running order consisting of any text or hymns (which can be written out in full, if required) should be supplied in an email or as a Word document attachment and photos should be attached as JPG's. If you are not particularly confident with emailing, you are welcome to contact us to arrange dropping off a memory stick containing the text along with any photos you would like included. We can always scan any photos if you do not have them digitally.
The Cover
The cover often has a photo, a title such as 'In loving Memory' or 'A service of thanksgiving for the life of', the full name, date of birth and date of death along with the date, time and location of the service.
Photos
It is always a good idea to use a photo for the cover that focuses on the person being remembered, rather than a group photo and if possible, the photograph should reflect their personality. Other personal photos are often used elsewhere in the funeral booklet.
Images should be of as higher quality as possible and can be received by email or scanned at our office.
We can adjust, edit and clean the images in the price, if desired. Damaged photos can be repaired digitally if required, subject to us seeing them and this may incur an additional charge.
The Contents
This can vary greatly depending on the kind of service you are having. The general wording includes events like the musical prelude, hymns, prayers, readings and tributes.
The text content for the Funeral Order of Service (together with any thoughts you may have on the layout) can be sent to us as an email, Word document or pdf.
Typesetting and Layout Preparation
We will always try and provide a proof within 48 hours of receipt of your copy.
The cost of producing a layout from text and images supplied is charged in addition to any print costs and starts from £52.00.
Prices
 Costs depend on whether you would like full colour or black and white pages, the number of pages, how many images you would like included, paper choice and the quantity.  VAT is not charged on funeral booklets.
Collection or Delivery
We will contact you as soon as your Funeral Booklets are ready, which is normally 2 – 3 working days from approval for print.
They can be collected from our premises or we can arrange delivery to some local Funeral Directors.
Our Funeral Booklets are generally A5 size (148 x 210mm) and can be printed in black or full colour.
We offer the Order of Services on either Standard or Premium quality stock with a choice of white or cream paper.
The cover is printed on thicker 300gsm stock whilst additional pages are printed on 120gsm stock and booklet is folded and stapled together.
The number of pages required for a funeral booklet depends on how much text and how many images you would like to include in the booklet.
It would generally be made up of folded sheets of A4 sideways (i.e. each sheet of A4 gives 4 pages of A5 when folded).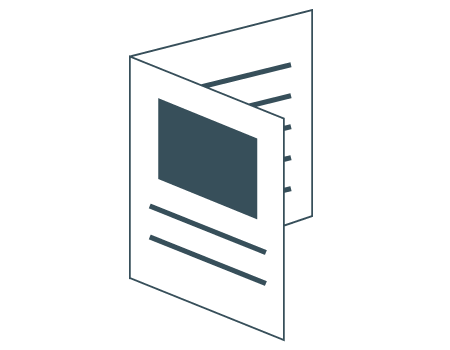 4 Page Booklet
Consisting of a single sheet of A4 that is printed on both sides and then creased and folded in half which forms 4 pages.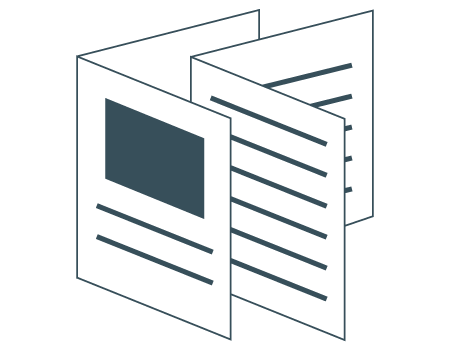 4 Page Booklet + Cover
Consisting of 1 sheet of A4 paper, printed on both sides and a card cover sheet printed on one side. It is then collated, creased, folded and stapled in the spine.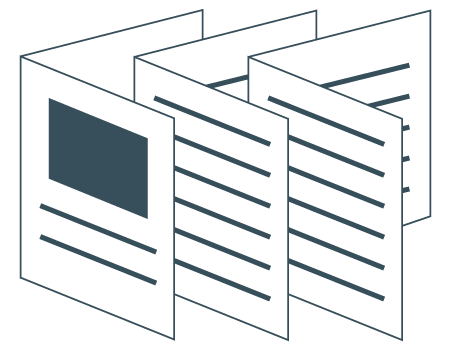 8 Page Booklet + Cover
Consisting of 2 sheets of A4 paper, printed on both sides and a card cover sheet generally printed on one side. Collated, creased, folded and stapled in the spine.